Prof. Satoshi Matsuda
Shizuoka University, Japan
Title:Composting of the garbage fraction of urban refuse - from the development of a small scale domestic reactor to the plant engineering of a large scale composting - and the microbiology as the basis of the composting
Abstract: The garbage fraction of urban refuse, mainly kitchen waste, accounts for about one-third of urban refuse (wet weight basis), most of which is collected and incinerated by local government at present in Japan. However, this process is a heavy financial and environmental burden on local communities. Thus, the development of an effective garbage treatment system would have great social significance. Among several possible options, the microbial decomposition type, which is called composting process, is regarded as one of the most environmentally-friendly options [1, 2, 3]. That is why the microbial garbage treatment has been studied in our lab. for a long period.
One of the valuable results was the development of the static type of small scale garbage treatment system [4, 5]. The term "static" means mixing operation is once a day at feeding only, and temperature nor air flow is not controlled. This system has a simple structure but has excellent characteristics in treating garbage with small generation of bad smell, and in particular, little consumption of energy. Thus, the first part of this talk is the description of the development process of the "static type composting system" in small scale domestic use.
On the other hand, there are so many large scale composting plants in Japan which have been suffered from quite different problems, mainly generation of bad smell. This is probably because the design and operation of the plants has been carried out mainly based on empirically obtained data in many cases. The essential reason of this situation would be that the microbial garbage treatment system is one of a "complex system", in which many factors interact in diverse ways. For instance, temperature as well as moisture content in the reactor, both of them are very important factors dominating the microbial activity, act as a cause but at the same time a result of microbial decomposition process: If temperature rises, the activity of microorganisms is generally accelerated which causes a greater heat generation by aerobic decomposition of garbage, which in turn pushes the temperature up and evaporation of water in the garbage is increased, which affect the moisture content in the reactor, which would bring about positive or negative effect on the activity of microorganisms. Other factors act in a similar manner. This situation would be the major reason why the design and operation of the composting/garbage treatment plants has long depended on skills and/or experiences of operators, which would be a kind of "fuzzy control system" using a high level of human sense. However, the operating factors should be determined on engineering basis, even though the situation is so complicated, in order to achieve a stable operation regardless of the skills of operators. Thus, the second part of this talk is a methodology for determining the amount of aeration would be discussed as a first step [6].
Since the composting process is a kind of "complex system" as stated above, the microbial ecosystem in this process is also very complicated. In fact, the true cause why the "static system" can show the better performance than that of conventional type has not been clarified yet by us. For example, there was no relation observed between the decomposition rate of garbage and the total colony number. And it has not been found out what kinds of microorganisms are really effective in the garbage treatment process. This fact suggested that there will be other approaches required to analyze the complicated microbial ecosystem in the composting process. Then, the last part of this talk is our new approach to the microbiology of composting. We adopted three different methods, i.e. DNA analysis such as PCR-DGGE method, colony observation using culture media, and the measurement of enzyme activity which indicates the characteristics of each colony [7, 8]. There were several interesting results obtained from this study: The microbes detected on the culture were classified by colors and shapes. It was observed that the microbial community was always changing, meaning that specific kind of strains did not continue to be dominant in the microbial ecosystem. On the other hand the band pattern of DGGE profile was almost constant, but the intensity of individual band showed almost proportional to the number of the colony isolated. The antinomy observed here, i.e. the microbial community was always changing microscopically but the decomposition performance was very stable macroscopically. And, surprisingly, there was no same  characteristics of all colonies detected in terms of enzyme activities, suggesting that the microorganisms were complementary to each other.
Biodata:1978 Bachelor of Chemical Engineering, Kyoto University; 1983 Dr. of Chemical Environmental Engineering, Tokyo Institute of Technology; 1983 Res. Assoc. , Tokyo Institute of Technology; 1992 Assoc. Prof. , Faculty of Engineering, Shizuoka University, Japan
Major Research Area: Waste Treatment Technologies using Microorganisms; e.g. composting of kitchen waste (aerobic process), methane fermentation (anaerobic one). Technology Assessment (mainly renewable energies). Life Cycle Analysis (mainly technologies for recycling of wastes).
Invite Speaker I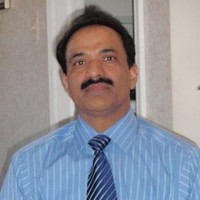 Assoc. Prof. Raziq Yaqub
Alabama A&M University, USA

Title: IIoT Cybersecurity risks in the face of Quantum Computing, and should 6G Security Architecture be based on Quantum Cryptography?


Abstract: For decades, Supervisory Control and Data Acquisition (SCADA) systems have played a significant role in industrial operations in collecting data and automating processes. With the emergence of wireless machine-tomachine (M2M) and Internet of Things (IoT) technologies, networks have backed utility providers to improve system reliability, stability and decision making. Today, industries are increasingly implementing end-to-end Internet Protocol (IP) connectivity for the Industrial Internet of Things (IIoT), pushing more capabilities at the edge of these networks. These do not make SCADA systems obsolete by any means; rather converges the both. However, at the same time this convergence brings a load of cybersecurity challenges too. More specifically with the revolutionary advancement of Quantum Computing and Quantum Cryptography, that ultimately may become a limiting factor on how much IIoT is deployed.
This talk will touch upon four important areas: (a) Architectural Differences between SCADA, and IIOT, and their Convergence, (b) Security Challenges in the Technological Convergence, (c) Capabilities of 5G Security Architecture in addressing the challenges, and (d) what Quantum Computing is, and why Quantum Computing is the next big Cyber Security Risk. Finally the talk will provide key recommendations.
From security perspective, the agenda of the talk would include insight into Cyber Security landscape, how security evolved into cybersecurity, why security is such a big concern for converged SCADA and IIOT, how 5G communications security architecture is positioned to remediate security attacks and threats, and is it enough in the face of emerging Quantum Computing and Quantum Cryptography.
From SCADA outlook, the talk will proceed to explain the security challenges of the traditional SCADA systems as these systems were neither designed, nor implemented with security in mind. The most common SCADA protocols like MODBUS, and DNP3 are inherently insecure; and the standard security procedures are often not implemented. Further, since the SCADA is likely to consist of embedded devices with long lifespans, conducting massive patches and updates would not be possible. Thus current SCADA presents an "Egg Shell security model; where one breach at any point of the network may wreck the whole infrastructure.
From IIoT front, the talk will highlight that IIoT has challenges of its own, such as the integration of Operations Technology (OT) and Information Technology (IT) will combine the vulnerabilities of both. Thousands of IP devices connected on the OT side, going out to the edge in the field, if not secured properly, may become compromised and, a hacker can push malicious data, cause denial of service (DoS), or introduce malware or viruses to the entire (IT and OT) network. On the IT side, the space has a much different attack surface than OT, and typically sees attacks such as SQL Injection, DDOS, and Man-in-the-Middle. Above all, "Quantum Computing is no longer a theory, but is becoming a reality. Quantum Computing has the capacity to revolutionize the society, however, if it falls into the wrong hands, it can smashup the entire world of communication, computing, and the IIOT. The major danger, however, is to the existing Cyber Security infrastructure, because, Quantum Computing, even in its infancy, is outperforming the conventional cryptography and rendering it obsolete. Thus critical infrastructure systems are in the line of fire unless they take proactive steps and come up with quantum-safe encryption technology. It mandates IIoT to revisit the tools and technologies for advanced authentication mechanisms, evolved Advanced Persistent Threats (APT), Intrusion Detection and Prevention (IDP), cutting edge Deep Packet Inspection (DPI), Application Reconstruction, Whitelisting, Network Behavior Monitoring and more.
After portraying the landscape of Quantum Computing, the presenter will explain that though 5G security architecture is robust, but may not be strong enough in the face of Quantum Computing. Many governments, top tech companies and universities are investing millions into Quantum Computing research and development. In the past two decade, the advancement in this industry have gone from a 5-qubit to over two thousand qubits computers. With major players, the ground breaking research, massive power of the qubit, the immense development of artificial intelligence, digital currencies, big data and IoT, though it will be easier than ever to do business, but it is creating new and unexpected threats and attack surface. These are further augmented by the fact that the hackers are no longer just teenage hackers looking for fame or fun, but organized criminal gangs and ideology-based 'hacktivism The days are not far, when we will see "artificial hackers and intelligent machines that could replicate what hackers do but at scale. The scary situation raises a question: Should 6G Security Architecture be based on the Quantum Safe Algorithms?
The talk will provide food for thought on how to explore innovative techniques and conduct Cyber Security related research. As such, it will be beneficial for the government policy makers, industry leaders, decision makers, corporate and academic researchers, professors, and students.


Biodata: Dr. Yaqub is an Associate Professor in Department of Electrical Engineering and Computer Science, Alabama A&M University, Huntsville. Dr. Yaqub earned a Ph.D. in Wireless Communication from Keio University, Tokyo, Japan, and MBA in Marketing from Fairleigh Dickenson University, New Jersey, USA. He is an inventor of numerous technologies, and received "Inventor of the Year Award from the Governor of the State of New Jersey, USA, and his name is in Inventors Hall of Fame. Dr. Yaqub, in parallel to his academic assignments, remained an Inventor with Wells Fargo, where he filed 18 new patents in Cybersecurity/Financial Technologies in 12 months. He remained an Executive Director of Toshiba America Research, New Jersey, to lead research work in 4th Generation Wireless Communication and filed 35 patents. He was Department Head of NIKSUN University, New Jersey, to lead educational efforts on Cybersecurity and Big Data Analytics, Sr. Consultant to the State of New Jersey to secure $87 Million grant for the State, a spokesperson in 3GPP on behalf of Department of Homeland Security, where he led Government Multimedia Priority Services, and an Associate Professor at University of Tennessee, where he developed Smart Grid courses and established the Smart Grid Lab. Dr. Yaqub is skilled in teaching, expert in conducting research and inventing technologies, developing solutions and building industry-academia collaboration. His academic efforts include developing from scratch, the new courses on "Smart GG Networks and "Advanced Metering Infrastructure and Cyber Security His research interest is in Big Data Analytics, 5G/4G/LTE, Smart Grid technologies (including Electric Vehicles, Renewable Energies, Smart Home Energy Management, etc.), Cyber Security, and Financial Technologies. He filed 50 patents, submitted 150+ contributions in technical standards organizations and published numerous papers in international conferences. He remained a working group chairman in Mobile Wireless Internet Forum, Chairman IEEE Membership Development, Chairman, IEEE for Award Committee, Rapporteur in 3GPP, keynote speaker, panelist, and guest speaker in numerous International conferences.